When the financial crisis of 2008 hit, it was considered by many as the worst economic disaster since the Great Depression. The crisis led to the fall of many large corporations and as a result, the number of employees terminated increased dramatically. Some of the previous employees of these corporations considered the layoffs wrongful or unfair, which led to an increase in employment related claims and litigation.
According to Hiscox's Guide to Employee Lawsuits 1 in 5 businesses are drawn into a lawsuit by a current or former employee.
As a business owner, you consider your employees as one of your greatest assets. The company's success is dependent upon them and their performance. You attempt to treat your employees like family, or you trust the upper management team that you have put in place to treat your employees professionally and with respect. The daily actions by you or your managers influence your employees – hiring and firing, deciding on who gets the promotion, scheduling shifts and so on. All these actions can be a basis to an ugly lawsuit – discrimination, harassment and wrongful termination just to name a few.
A lawsuit brought on by an employee can affect a business of any size whether it has 5 workers or thousands of workers.
These lawsuits are an emotional and financial drain on any organization. Just imagine covering all the lawyer fees, court fees and the cost of investigation and settlement out of your own pocket. The average cost to defend and settle such a lawsuit is $160,000.
The driving forces behind these claims can range from economic trends, poor HR guidelines, or more recently the #MeToo movement. This recent movement has increased the demand for EPLI coverage among owners in every category according to Desiree Khoury, vice president of specialty reinsurance at NAS Insurance Services.
The #MeToo movement began a year ago when sexual assault allegations were claimed against infamous film producer Harvey Weinstein. The allegations against the high-profile entertainment industry mogul has sparked an upsurge in claims of sexual harassment in the workplace across the country. As mentioned earlier, these claims are not new but the attitude and significance of them has drastically changed. It has had altering effects on any businesses caught in the cross hairs. According to an article in Bloomberg since the reported allegations against Weinstein, at least 425 prominent people across industries have been accused of the same or similar misconduct. 
Based on a graph shown below from Hiscox, several southeastern states are even more vulnerable to these types of claims than other states especially in Alabama.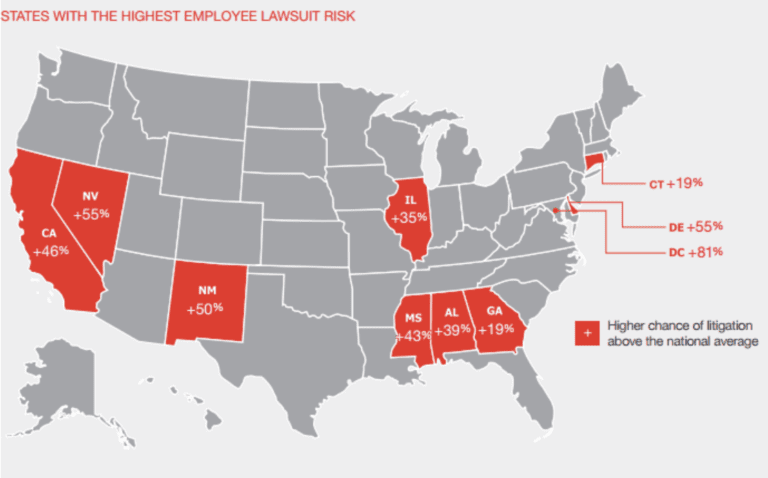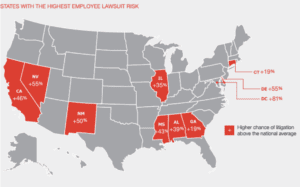 So how do you defend yourself? In this post I want to discuss how you can protect your business from an employment related lawsuit beginning with what Employment Practices Liability insurance covers, the features of the coverage to look for when purchasing and explain why it is important for any business to have.
Defining EPL insurance and what it covers
Employment Practices Liability insurance is designed to provide coverage for wrongful acts arising from the employment process.  The most frequent types of claims covered under this policy would include wrongful termination, discrimination, sexual harassment, and retaliation.  The policy also covers claims from a variety of other types of inappropriate workplace conduct, including, but not limited to, employment-related: defamation, invasion of privacy, failure to promote, deprivation of a career opportunity, and negligent evaluation. This policy names and covers all past, present and future management staff, Directors and Officers and employees as insureds.
An EPL policy is designed to cover the cost associated with a lawsuit brought forth by an employee including the cost to hire an attorney, administrative court fees, the cost to conduct investigations as it pertains to defending your case, as well as the settlement and any judgement awarded against you.
In addition to the above coverage, there are two special provisions that I want to highlight in this section; Wage & Hour and Third-Party Coverage.
Wage & Hour
As the name suggests, Wage & Hour coverage deals with fair wages paid to employees. A few examples of potential Wage & Hour claims could include the misclassification of exempt/non-exempt employees, failure to pay overtime, or the miscalculation of wages.
These claims can occur in any industry whether it be a manufacturer or a restaurant chain. However, the hospitality and healthcare industry rank among some of the highest affected by these claims.  In 2017 alone, the U.S. Department of Labor took over 5,000 hospitality wage and hour cases, recovering more than $42 million in back wages for 44,363 employees according to the DOL database. In the last five years, a total of $1.3 billion in back wages has been recovered by the Wage & Hour division of the DOL.
Due to the increasing frequency of these claims, it is an important endorsement to include in your Employment Practices Liability policy. It also important to understand how the limit indicated for this coverage would apply. Is it only for the cost to defend the claim, or will it also provide coverage for the settlement that may be awarded?
Third Party
As we discussed above, an EPL policy provides coverage for claims brought against the company by an employee. Third party coverage extends this coverage to apply to claims brought on by a non-employee of the company. This could include a vendor, a client, or a member of the public. Typically, a third-party claim would allege harassment or discrimination. Third-party EPLI can reimburse your company for court and legal fees, as well as any settlements between the business and the accuser.
This coverage would be appropriate for any business that frequently interacts with people other than employees as mentioned above.
When purchasing an EPL policy, know what to look for
Now that we have discussed the basics of an EPL policy, let's look at what you need to focus on and be aware of.
Claims-made policy
EPL policies are usually written on a claims-made basis instead of an occurrence basis. In a claims-made policy, two conditions must be met for the coverage to kick in:
– the claim should be reported during the policy period
– the loss should occur after the continuity date
The continuity date is often times the date in which the insurance policy was first obtained. It is a date from which you had uninterrupted insurance coverage. It is always important to review the continuity date at the renewal of your policy or if you change insurers to make sure the original date is honored and has not changed. Most policies are now written with full prior acts coverage subject to the continuity date. Because of this you want to be sure the date has not changed, so that full prior acts is actually referring back to the original policy inception date. The change of a continuity date could be the result of a newly signed warranty statement – a statement that you have no knowledge of a fact, circumstance or situation that may result in a claim.
If you are wanting to cancel or end company operations, it is important that you inquire about the policy's "extended reporting provision" or tail coverage that allows you to purchase a set number of years of continuous coverage for any incidents that may have occurred but have not been reported to you yet. A lot of times these claims go unreported for some time before they come to fruition. The terms of this extended coverage are usually found within the policy.
Coverage for all entities
All appropriate entities should be named as insureds in the policy especially if your company has multiple entities, DBA's or businesses. In such cases, all entities can be named in a lawsuit regardless of which entity was responsible. In other cases, an employee may only name the corporate name in the lawsuit instead of the legal name. This can make a complex lawsuit even more complicated.
Shrinking limit provision
In a standard commercial insurance policy such as General Liability, the cost to defend the claim, i.e., hire attorneys and so on, does not affect the primary limit of the policy. Many EPL policies work the other way. They contain a provision that the cost of defending the claim erodes the limit that you have. It is crucial to be aware of this, so you can select an appropriate limit for your organization or obtain a policy where defense costs are provided outside the limit of liability. 
Conclusion
As you can see, Employment Practices Liability insurance has many facets. However, having a general knowledge of this type of coverage and putting a policy in force can protect you from the mayhem that you may encounter if you are sued. In our litigious society and the evolving frequency and intensity of employment related claims, lawsuits are common. Whether you are guilty of an actual wrong act or it is a false allegation stemming from retaliation, you still stand to spend thousands of dollars to defend your case and possibly settle just to make it go away.   
As a businessowner you worked tirelessly to transform your business idea into a reality; don't let an EPL matter derail you.  Without a policy in force, you can expect to pay those monies out of your own pocket. The funds that you had set aside for an expansion, a new product launch, or improvements and betterments to the current work environment.   
It does not stop here either. If you are not incorporated, the financial damage can compromise your personal assets.
Is it worth the financial devastation? Can you afford to take on a lawsuit of this magnitude without help? It is no longer a matter of "if" it will happen to you, it is "when" will it happen to you.
We can help you navigate through all the different coverage provisions and make sure that your organization is protected appropriately according to the risks you face before it is too late. Please call and speak to one of our Risk Advisers at 334-273-7277 to begin the process.